Course details
<Girls' Association course> 2 H with drink all you can * Premium with sparkling wine 10 points etc. 4980 yen <All 14 items>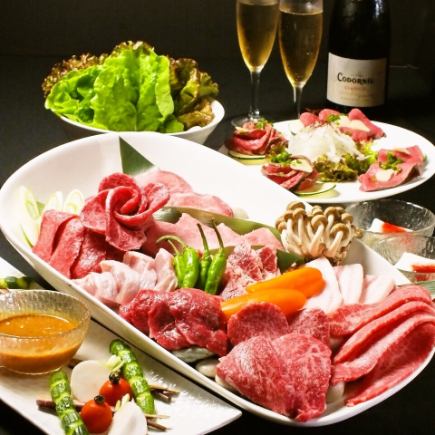 All-you-can-drink available

■ 2 hour drinks all-you-can-eat menu ■
Reservation deadline

Until 22 o'clock the day prior to the desired shop visit date
Available days for reservation

Monday - Sunday - Public holidays - Holidays
If it is a girls' association in our shop, this is a toast with sparkling wine ☆ Before you eat "Rare roast beef of black birch beef thigh meat" is baked in front of you, the chef cuts out and puts out ☆ In addition, you can enjoy the best domestically produced Kuroge Wagyu beef "black birch beef (kurohana cucumber)" with 10 premium grades automatically left.Please use it by all means girls' association ♪
Course menu
● Aperitifs: sparkling wine (half bottle with 2 to 3 people, 1 bottle with 4 or more people)
Cheers with sparkling will make you feel excited ♪
● Nanae: Miura vegetable Bagna cauda
Mineral with farm direct delivery Rich and fresh vegetables rich in condensed sweetness and taste!
● Pottery: Black Birch Beef (Kuroha na Kyu) Thigh meal Rare Roast Beef
The more you chew, the more you feel the flavor!
● Pottery: Today's premium 10 points padding
Please contact the staff on the day.
● Vegetable: Sangchu set
Healthy if you eat it by wrapping it on meat ♪
● Dessert: Today's dessert
Please contact the staff for the contents of the dessert.
※ By using a coupon, you will receive a sparkling wine ☆ ★
<< Request at time of reservation >>
Please contact us before the day before arrival (within business hours) to change the number of people.Changes can not be made afterwards.Regarding cancellation of reservation please read the cancellation policy which is found in store basic information.If you have any other requests or questions please do not hesitate to contact us.Request reservation is not completed in reservation.I will tell you whether your reservation will be accepted by call back.We will automatically cancel if you do not hear from us within 3 days from the date you booked, thank you for your understanding.
All-you-can-drink menu
·【beer】
· Kirin Lager Beer in ※ Glass
·【whiskey】
·Highball
·【Cocktail】
· Jin Ricky / Jimbac / Screwdriver / Peach Fizz / Fuzzy Navel / Peach Oolong / Cassis Soda / Cassis Orange / Cassis Oolong / Cassis Grapefruit / Salty Lychee Vodka
·【wine】
· Glass wine red · white
·【Shochu】
· Mount Tomoho / mountain cat / baking also Kurose ※ rock · water split · hot water split
· Wheat shochu
· Taizo Mi / Midori / Sato (wheat) / white scorpion ※ rock · water split · hot water split
· [Rice · brown sugar]
· Toyonaga Kura / Ichibanbashi ※ rock · water split · hot water split
·【Fruit wine】
· Eno sake / Kawanami Garden Nigari plum wine / Sato farm Ome plus / Yuzu Yuzu sake / Uresho residence Ohashi mandarin / Hakkaru ginger sake ※ rock · water split · soda crack · ginger ale
· 【Sour · Shochu High】
· Fresh Lemon Sour / Fresh Grapefruit Sour / Fresh Pine Apple Sour / Sequacer Sour / Umeboshi Sour / Makgeolis Sour / Calpis Sour / Green Tea High / Oolong High / Jasmine High / Tea High / Tomato High / Soba Brown High
· [Others]
· Makgeolid ※ straight rock
·【Soft drink】
· Coca Cola / Ginger Ale / Calpis / 100% Orange / 100% Pineapple / 100% Grapefruit Tomato Juice / Salty Lychee / Straight Tea / Jasmine Tea / Oolong Tea / Green Tea / Soba Tea
2018/10/20 update